Zoom Event Hosted by Publisher Wise Ink
Join from the comfort of your home
On Thursday, August 5, Minnesota welcomed home Olympic gymnasts Suni Lee, the all-around Olympic gold medalist and three-time medal winner, and Grace McCallum, a member of the silver medal-winning women's gymnastics team.
In a similar welcoming, Publisher Wise Ink and author Patrick Mader would like to invite you to a Post-Olympic Celebration & Conversation Zoom meeting on Monday, August 9th, from 7:00 – 8:00 p.m. CDT.  It will highlight some of the 2021 Olympians from Minnesota plus Olympians from a variety of sports and eras.  There were will be a 25 – 30 minute Power Point slide show about Minnesota's rich heritage in the Olympics, followed by 4 Olympians addressing the audience about their Olympic experiences and memories for about 10 minutes and then a question-and-answer period.  The event is free with registration, your e-mail will not be shared, and there will be no advertising (except for Patrick's shameless plug to purchase a book with a 20% discount if you use the password Olympics2021😁
Please join us and learn about these remarkable Minnesota athletes and their stories, challenges, and achievements.  Best of all, they "give back" to their community, school, and sport.  Thank you.
https://www.eventbrite.com/e/gold-celebrating-the-olympics-with-past-minnesota-olympians-tickets-166103489007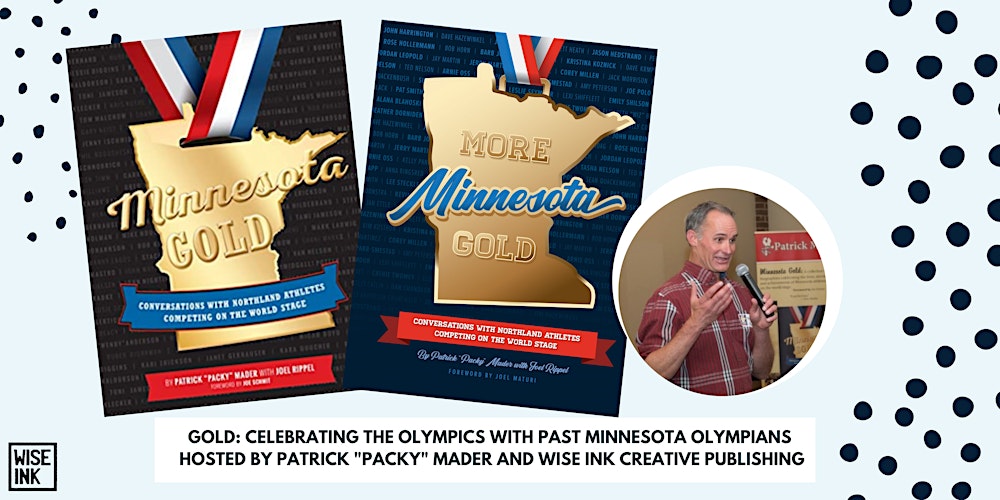 Please join us to celebrate Minnesota's rich sports heritage and have a conversation about one of the state's great resources:  its Olympians.  Patrick will be presenting a Power Point slide program hosted by book publisher Wise Ink which will feature many of the athletes profiled in his two books from every region of the state and highlight different sports and eras.
Following the presentation, Patrick will introduce the guest Olympians who will share their memorable Olympic experiences.  At this time, 1988 swimming Olympian Trina Radke (Morris), 1956 Olympic Greco-Roman wrestler and 1972 Olympic coach Alan Rice (Minneapolis), and speedskaters, 2014 Olympian Anna Ringsred (Duluth) and 2002 Olympian Jason Hedstrand (Shoreview) have confirmed their participation.
Books will be available at a 20% discount to viewers ($40/book includes tax and shipping).  It is our hope to host an in-person book launch before the Winter Games in late January 2022 at Braemar Golf Club in Edina.  More details and information will be forthcoming.
Trina Radke                                       Alan Rice (right) receives an award from          2014 Olympian Anna Ringsred
                                                                                                legend Dan Gable (left)