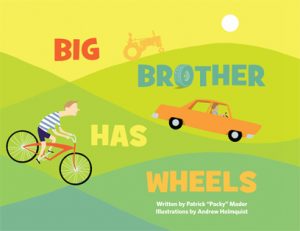 Wheels. They come in different sizes on different vehicles for different purposes, but they hold the same fascination for kids and adults alike: they take you places.
Follow Big Brother's lifetime interest in wheels as he explores beyond the comfortable boundaries of his family farm, rolling through neighboring towns, then nearby states, and finally all across the United States, he drives everything from a tricycle to a forklift. His love of wheels is more than a boyish hobby—it's a ticket to the whole country.
But Big Brother carries another love with him through all his zipping and zooming: his family. He shares his passion with his brothers and sisters, and every adventure circles back to the ones he loves. With a new vehicle on every page, Big Brother Has Wheels will entrance kids hungering for wheels of their own. Young readers can follow Big Brother's travels as he grows into each new set of wheels, while grown-ups will appreciate details that recall their own childhoods. Join his parents, his brothers and sisters, his friends, and even his own children as they wonder, "What will Big Brother drive next?"
In Opa & Oma Together and Oma Finds a Miracle, Patrick "Packy" Mader described the slow, deep roots of a Midwestern family in the farming tradition. In Big Brother Has Wheels he has captured the American obsession with exploration—with speed and freedom and pushing boundaries. Illustrator Andrew Holmquist returns with lively pictures that create memorable characters and incorporate wheels and circles in unexpected ways.
Praise for
Big Brother Has Wheels
"It's no wonder why children and parents love Packy Mader's stories, because they are universal family stories—stories about the love grandparents give, the joy animals bring, or, as in the touching Big Brother Has Wheels, the bond siblings share. And as soon as the first page you discover it's obvious that these stories come from a writer with a big heart." —Tom Swift, award-winning author of Chief Bender's Burden
"A delightful tale about what fascinates and unites boys young and old—anything with wheels! This story emphasizes the importance of family while showing that growing up doesn't necessarily mean growing old. Sure to be a favorite for fathers and sons of all ages!"—Susie Bazil, author of The Sick Bug